Terapeuta fisico Gary IN
En esta pagina podras encontrar un listado completo de los mejores terapeutas fisicos en Gary
---
Staggers Chiropractic Wellness Center
(219) 413-9356
81 West Glen Park Ave
Griffith, IN
Hours
Monday 8:00 AM - 12:00 PM
Tuesday 2:00 PM - 6:30 PM
Wednesday 8:00 AM - 12:00 PM
Thursday Closed
Friday 8:00 AM - 12:00 PM
Saturday Closed
Sunday Closed
Services
Acupuncture, Applied Kinesiology, Auto Accidents, Chiropractic Laser Therapy, Chiropractic Neurology, Chiropractic Traction Therapy, Chiropractic Treatment for Injuries, Chiropractors, Decompression Therapy, Disc Herniation Treatment, Emergency Chiropractic Care, Flexion-Distraction Therapy, Holistic Chiropractic Care, Homeopathic Medicine, Massage Therapy, Orthogonal Chiropractic, Pain Management, Pediatric Chiropractic, Personal Injury


Munster Chiropractic Clinic
(219) 595-2999
2833 Lincoln St
Highland, IN
Hours
Monday 9:00 AM - 6:00 PM
Tuesday 9:00 AM - 6:00 PM
Wednesday 9:00 AM - 6:00 PM
Thursday 12:00 AM - 12:00 AM
Friday 9:00 AM - 6:00 PM
Saturday 9:00 AM - 6:00 PM
Sunday 12:00 AM - 12:00 AM
Services
Acupressure, Applied Kinesiology, Auto Accidents, Chiropractic Neurology, Chiropractic Traction Therapy, Chiropractic Treatment for Injuries, Chiropractors, Decompression Therapy, Disc Herniation Treatment, Emergency Chiropractic Care, Flexion-Distraction Therapy, Holistic Chiropractic Care, Homeopathic Medicine, Orthogonal Chiropractic, Pain Management, Pediatric Chiropractic, Personal Injury, Physical Therapy


Select Physical Therapy - Portage
(219) 885-9949
6678 US Highway 6
Portage, IN
Hours
Monday 8:00 AM - 6:30 PM
Tuesday 7:00 AM - 5:30 PM
Wednesday 8:00 AM - 6:00 PM
Thursday 7:00 AM - 6:00 PM
Friday 8:00 AM - 4:30 PM
Saturday Closed
Sunday Closed
Services
Aquatic Therapy, McKenzie Certified Clinic, Neuro Rehabilitation, Pediatrics, Physical Therapists, TMJ Dysfunction Program, Women's Health, Workers Comp/Rehabilitation


Absolute Chiropractic
(219) 232-8934
9161 Wicker Ave
Saint John, IN
Promotion
We offer free initial consultation and examination!
We also offer 1st time patient full body massages for $30 reg. $60
Hours
Monday 9:00 AM - 12:30 PM
Tuesday 9:00 AM - 12:30 PM
Wednesday 9:00 AM - 12:30 PM
Thursday 9:00 AM - 12:30 PM
Friday 9:00 AM - 12:30 PM
Saturday 9:00 AM - 12:00 PM
Sunday Closed
Services
Auto Accidents, Chiropractic Traction Therapy, Chiropractic Treatment for Injuries, Chiropractors, Decompression Therapy, Disc Herniation Treatment, Emergency Chiropractic Care, Flexion-Distraction Therapy, Massage Therapy, Pain Management, Pediatric Chiropractic, Personal Injury, Physical Therapy


Select Physical Therapy - Valparaiso
(219) 285-1950
1300 E Lincolnway
Valparaiso, IN
Hours
Monday 8:00 AM - 5:30 PM
Tuesday 8:00 AM - 5:00 PM
Wednesday 8:00 AM - 5:30 PM
Thursday 8:00 AM - 5:00 PM
Friday 8:00 AM - 5:30 PM
Saturday Closed
Sunday Closed
Services
Lymphedema Program, McKenzie Certified Clinic, Neuro Rehabilitation, Pediatrics, Physical Therapists, TMJ Dysfunction Program, Women's Health, Workers Comp/Rehabilitation


Select Physical Therapy - Merrillville
(219) 885-9986
5525 Broadway
Merrillville, IN
Hours
Monday 8:00 AM - 6:00 PM
Tuesday 8:00 AM - 4:30 PM
Wednesday Closed
Thursday 8:00 AM - 5:30 PM
Friday 8:00 AM - 4:30 PM
Saturday Closed
Sunday Closed
Services
Lymphedema Program, McKenzie Certified Clinic, Neuro Rehabilitation, Pediatrics, Physical Therapists, TMJ Dysfunction Program, Women's Health, Workers Comp/Rehabilitation


Select Physical Therapy - Schererville
(219) 440-2993
2300 Cline Ave
Schererville, IN
Hours
Monday 8:00 AM - 5:30 PM
Tuesday 8:00 AM - 12:00 PM
Wednesday 8:00 AM - 5:30 PM
Thursday 8:00 AM - 12:00 PM
Friday 8:00 AM - 5:30 PM
Saturday Closed
Sunday Closed
Services
McKenzie Certified Clinic, Neuro Rehabilitation, Pediatrics, Physical Therapists, Sports Medicine, TMJ Dysfunction Program, Women's Health, Workers Comp/Rehabilitation


Select Physical Therapy - Crown Point
(219) 779-7953
11360 Broadway
Crown Point, IN
Hours
Monday 8:00 AM - 7:00 PM
Tuesday 7:00 AM - 4:00 PM
Wednesday 8:00 AM - 7:00 PM
Thursday 7:00 AM - 7:00 PM
Friday 8:00 AM - 7:00 PM
Saturday Closed
Sunday Closed
Services
McKenzie Certified Clinic, Neuro Rehabilitation, Pediatrics, Physical Therapists, TMJ Dysfunction Program, Women's Health, Workers Comp/Rehabilitation


Dr. Timothy K. Durnin B.S./D/C AASP
(708) 895-3228
18037 Torrence Ave
Lansing, IL
Business
Lansing Chiropractic Clinic and Medical Welln
Specialties
Chiropractic, Full Board certified Medical and Chiropractic Staff Hospital affiliations specializing in primary care with emphasis on spine issues such as herniated disc and headaches. Acupuncture, massage, whirlpool, physical therapy, Laser therapy, all modalities. D
Insurance
Insurance Plans Accepted: Most including BC/BS, Etna and just about every plan available.
Medicare Accepted: Yes
Workmens Comp Accepted: Yes
Accepts Uninsured Patients: Yes
Emergency Care: Yes
Doctor Information
Primary Hospital: Olympia Fields Osteopathic Hospital/ South Suburban Hospital/Thorak Hospital
Residency Training: Chicago General Health Services/ Sacred Heart Hospital
Medical School: National University of Health Sciences, 1991
Additional Information
Member Organizations: Illinois Chiropractic Society American Chiropractic Society American Association of Spinal Surgeons and Physicians National Honor Society President Emeritus NUHS
Awards: Doctor of the year award 2001, Who's Who in America President Emeritus National University of Health Sciences
Languages Spoken: English,Spanish
Data Provided By:
Flexeon Rehabilitation
(219) 267-0956
2202 La Port Ave
Valparaiso, IN
Promotion
Call today and set up a free screening at any of our 15 facilities!
Hours
Monday 8:00 AM - 7:00 PM
Tuesday 8:00 AM - 7:00 PM
Wednesday 8:00 AM - 7:00 PM
Thursday 8:00 AM - 7:00 PM
Friday 8:00 AM - 7:00 PM
Saturday Closed
Sunday Closed
Services
Geriatrics, Manual Therapy, Orthopedic Care, Orthotics & Prosthetic Therapy, Physical Therapists, Sports Medicine, Workers Comp/Rehabilitation


Data Provided By:
Una F para los maletines escolares que causan dolor de espalda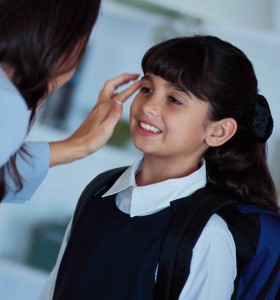 Empiezan las clases nuevamente, y llegó la hora de estrenar maletín escolar, libros, cuadernos, laptop, ropa deportiva… ¡ten cuidado! Cargar todo eso en el maletín escolar nuevo puede causarle a tus hijos dolor de espalda, de hombros y de cuello. Ponle atención a estos consejos para que el maletín escolar no se vuelva una carga negativa para tus hijos.
La expresión "el peso del conocimiento", parece haberse traducido literalmente al maletín escolar de tus hijos. ¿Lo has levantado alguna vez? Si a ti te parece pesado, imagínate cómo lo sentirán ellos que lo cargan todo el día, todos los días.
Libros, cuadernos, uniformes deportivos, laptop, i-pod, video juegos portátiles… Con tantas cosas en el maletín, no es raro ver a muchos estudiantes inclinando el cuerpo para adelante para aguantar el peso en su espalda. Y cuando se cuelgan el maletín "a la moda" (sobre un hombro), el panorama es aún peor pues terminan doblando la espalda hacia un lado.
¿Acaso los maletines podrían afectar seriamente la espalda de tus hijos? Hasta el momento no hay respuesta pues no se han realizado estudios a largo plazo para comprobarlo. Hay quienes creen que como el esqueleto de los niños aún está en crecimiento, el exceso de peso y las malas posturas pueden causar escoliosis, curvatura en la espina dorsal o impedir el adecuado crecimiento. Pero son especulaciones pues aún no se ha podido comprobar.
Sin embargo, lo que sí se ha podido comprobar es que los maletines escolares muy pesados tienen efectos inmediatos. Los ortopedistas manifiestan que cada vez aumentan los niños y los adolescentes con dolor de espalda, de cuello y hombros en sus consultas. Los maletines escolares pesados y el mal uso de éstos hacen que los músculos de la espalda baja y media se esfuercen el doble y que los hombros se encorven, causando dolor.
¿Qué puedes hacer por tus hijos?
Elige el maletín adecuado:
Debe ser liviano y pequeño para que no le quepan demasiadas cosas.
Evita los maletines de un sólo tirante que se cruzan a través del pecho. Son más seguros los de dos tirantes, que sean anchos, ajustables y acolchados.
La espalda también debe ser acolchada.
Que tenga cinturón que ayuda a aliviar el peso sobre los hombros.
Los maletines con ruedas pueden ser una buena alternativa, si la escuela no tiene muchas escaleras y si vives en un lugar donde no hay mucha nieve en el invierno.
Enséñales a usarlo correctamente:
De acuerdo con la Asociación Americana Q...