Nutricionista Lancaster SC
Los nutricionistas son las personas encargadas de darte un asesoramiento completo sobre comidas sanas. Estos especialistas éstan dedicados a tu salud alimenticia, aquí podrás encontrar un listado de nutricionistas en Lancaster que te podrás ayudar a llevar una vida sana... Que esperas?
---
Roy Crary Blank, MD
(704) 291-7111
3415 Rainbow Dr
Waxhaw, NC
Specialties
Internal Medicine, Nutrition
Gender
Male
Education
Medical School: Univ Of Md Sch Of Med, Baltimore Md 21201
Graduation Year: 1972
Hospital
Hospital: Presbyterian Hospital, Charlotte, Nc
Group Practice: Caswell Med Assoc
Data Provided By:
Learn2lose Center-Weight Mgmt
(704) 243-7106
216 W North Main St
Waxhaw, NC
Data Provided By:
The Believe Center
(803) 356-1806
106 East Main Street
Lexington, SC
Specialty
Akashic Records, Aromatherapy, BioMeridian Testing, Blood Chemistry Analysis, Channeling, Crystal Therapy, Distance Healing, Energy Healing, Feng Shui, Flower Essences, Guided Imagery, Healing Touch, Kinesiology, Laser Therapy, Life Coaching, Magnetic Therapy, Massage Therapy, Meditation, Medium, Metaphysics, Nutrition, Past Life Regression, Polarity Therapy, Psychic, Rebirthing, Reconnective Healing, Reflexology, Reiki, Remote Healing, Shamanic Healing, Shiatsu, Sound Therapy, Spiritual Counsel


Aggressive Weight Loss Center
(843) 661-0211
700 S Parker Dr Ste 4
Florence, SC
Dr. David E. Naum
(864) 882-7698
125 Eagles Nest Drive, Suite D
Seneca, SC
Specialty
Bioidentical Hormones, BioMeridian Testing, Breathwork, Chiropractors, Hair Analysis, Herbology, Homeopathy, NHRT, Nutrition, Rebirthing, Wellness Centers
Associated Hospitals
Holistic Health Practitioner & Chiropractor


Child Nutrition
(704) 296-3000
407 N Main St,# 100
Monroe, NC
Services
Diabetes Education, Nutrition Counseling, Weight Management, Diet Plan, Sports Nutrition, First Consultation, Weight Loss
Hours
Sunday:Closed
Monday:9:00 AM - 5:00 PM
Tuesday:9:00 AM - 5:00 PM
Wednesday:9:00 AM - 5:00 PM
Thursday:9:00 AM - 5:00 PM
Friday:9:00 AM - 5:00 PM
Saturday:Closed


Jin Li Dong
(843) 692-9243
4810 N Kings Highway
Myrtle Beach, SC
Business
Alternative Health Clinic
Specialties
Acupuncture, Chiropractic, herbology, cancer treatment and therapy, traditional Chinese medicine, live cell studies, nutrition, detoxification, natural and holistic healthcare
Insurance
Insurance Plans Accepted: Aetna, Blue Cross Blue Shield (SC, Blue Choice, Federal, State), United Healthcare (Golden Rule, Great West), Medicare, MedicaidSoon to come: Humana, Planned Administration Inc. (BCBS)If you are insured with another company, please contact us for
Medicare Accepted: Yes
Workmens Comp Accepted: Yes
Accepts Uninsured Patients: Yes
Doctor Information
Medical School: Peking University School of Medicine, Sherman College of Straight Chiropractic, 1983, 1991
Additional Information
Member Organizations: SC Chiropractors Association
Languages Spoken: English,Spanish
Data Provided By:
Palmetto Primary Care Physicians
(843) 572-7727
1516 Old Trolley Rd
Summerville, SC
Jeanne Fowler, DVM
(864) 834-7334
also offering Veterinary Orthopedic Manipulation (VOM),409 Old Buncombe Rd.
Travelers Rest, SC
Specialty
Acupressure, Acupuncture, Animal Health, Blood Chemistry Analysis, Herbology, Homeopathy, Integrative Medicine, Laser Therapy, Nutrition, Traditional Chinese Medicine, Tui Na
Associated Hospitals
All About Pets


Ronald Lee Smoyer, MD
(843) 235-8123
1410 S Kings Hwy
Myrtle Beach, SC
Specialties
Family Practice, Nutrition
Gender
Male
Education
Medical School: Jefferson Med Coll-Thos Jefferson Univ, Philadelphia Pa 19107
Graduation Year: 1974
Data Provided By:
Data Provided By:
¿Dietista o Nutricionista?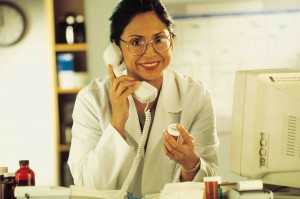 Por Nancy Neirick, M. S., R. D.
Estos días hay más interés por parte del público en la nutrición. Pero a la misma vez hay confusión en nuestra comunidad sobre quien es una nutricionista y quien es una dietista registrada "RD". ¿Hay alguna diferencia o es lo mismo? De acuerdo a la American Dietetic Association "ADA" (Asociación Dietética Americana) el ser dietista o nutricionista no es lo mismo.
La dietista es la experta en nutrición y alimentos. El ser dietista registrada "RD" significa tener una credencial o título que es protegido legalmente y que sólo puede ser usado por profesionales autorizados por la American Dietetic Association (Asociación Dietética Estadounidense) y la Commission on Dietetic Association (Comisión de la Asociación Dietética).
Algunas Dietistas Registradas se llaman "nutricionistas" pero no todas las nutricionistas son Dietistas Registradas. Algunos estados tienen leyes de licencia que definen el ámbito de práctica para los que usan el término "nutricionista," pero en otros estados, cualquiera se puede llamar a si misma o a si mismo "nutricionista" sin importar la educación o entrenamiento.
Las personas que tienen la credencial de Dietista Registrada "RD" han cumplido con requerimientos específicos, incluyendo el obtener un bachillerato aprobado por la Commission on Accreditation for Dietetics Education (Comisión de Acreditación para la Educación Dietética), han completado un programa de práctica supervisada, han aprobado el exa...